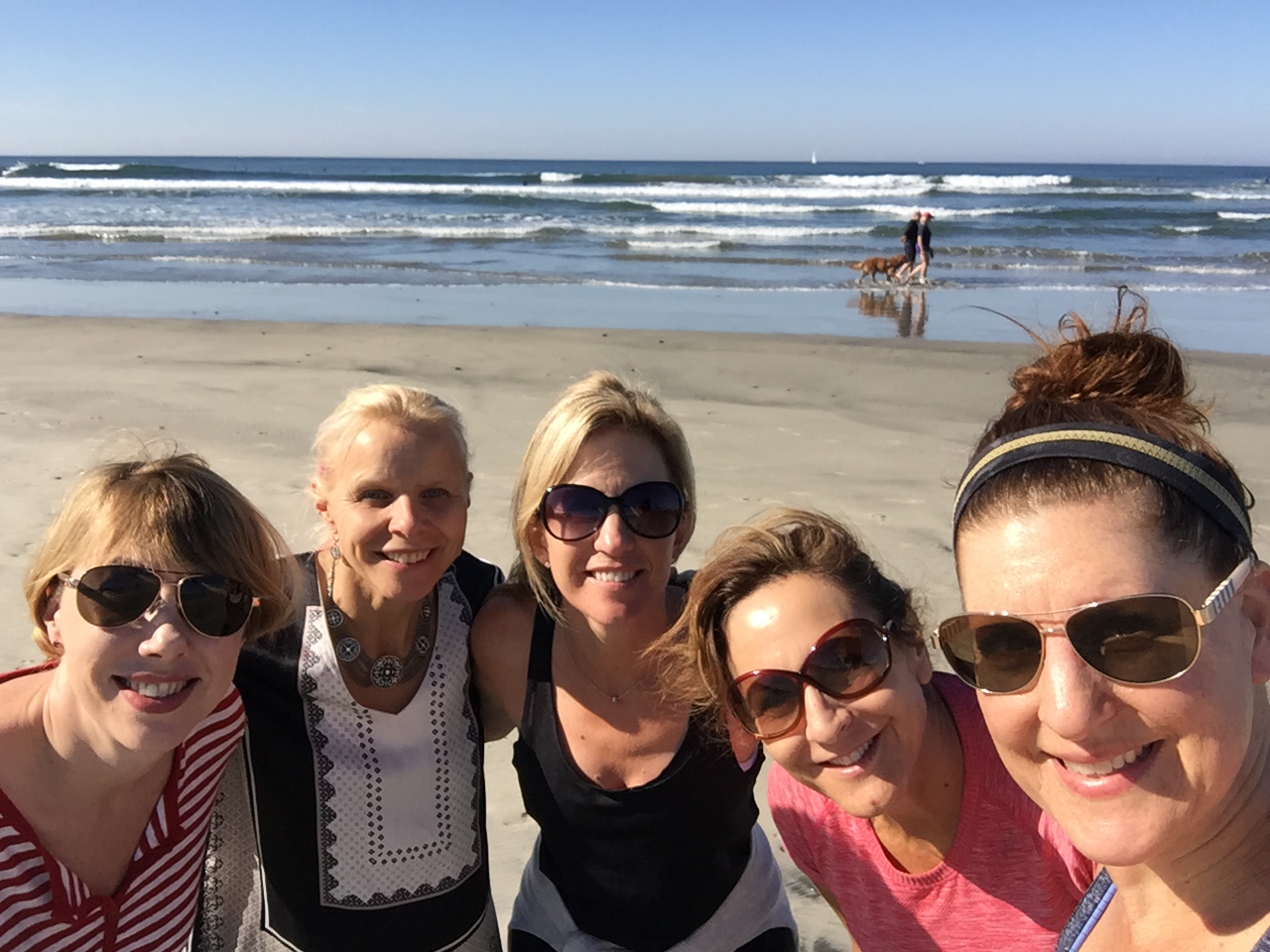 Caption: The author, Leigh Ann Campbell (center), with sister Cloud Girls (from left) Kellie Green, Lorraine Bassett, Stephanie Minasian and Laura Romero.
By Leigh Ann Campbell
It's been a few weeks since my first Cloud Girls retreat in Oceanside, but I can still smell that salty air and hear the constant, unadulterated laughter that filled our weekend in that amazing three-story beach house.
I've been a Cloud Girl for many years (in and out depending on my job at the time) and always appreciated our monthly calls for their education content.  However, except for that one hour a month, I wasn't really engaged.  Now, after attending my first Cloud Girls retreat, I'm all in!
Our weekend at the beach gave me the chance to connect on a professional and personal level with truly amazing women in all different stages of their careers and life.  Thanks to an unexpected swim in the Pacific Ocean (in October!) I learned more than I expected about so much more than all things "cloud".
Here are 5 things I learned from the Pacific Ocean:
Courage is gained when you surround yourself with supportive women! (10+ women getting down to their bathing suits, no spray tans, no extreme diets, or cover ups was amazing to be a part of!)
The song should have been titled, "Prosecco by the Ocean." ('nough said) J
You can find treasure at the ocean, if you listen. (During several walks along the beach, I discovered so much about other Cloud Girls that I wouldn't have ever had the chance to know during a conference call.  I also learned more about myself.)
The waves don't care if you are a CEO, unemployed, or new in your career. They'll kick your ass if you turn your back on them!
To truly experience the Pacific Ocean (or anything in life for that matter) you have to jump in all the way. (Yes, that means getting your hair wet!)
I want to thank all the Cloud Girls who worked so hard to make our annual retreat special and impactful for us.  I'd also like to thank everyone who attended for putting yourself out there and trusting us so we could all benefit from each other's experiences.
Looking forward to next year!
About the Author
Leigh Ann Campbell is business development director for cloud and MSPs at Quest. Her passion is driving sales through unique and differentiated go-to-market strategies and alliance programs. She has over 15 years of experience in diverse fields and disciplines – sales, marketing, alliance management, product marketing and business development. Her career has been focused in the technology areas of cloud computing, software, data storage and professional services.
About the Editor
Khali Henderson is senior partner at BuzzTheory Strategies and chair of the Cloud Girls Communications Work Group.