Think Tank and Telecom Non-profit Partner Together to Sponsor Grants for Tech Education for Students in Underserved Communities
Aliso Viejo, California – July 18, 2019 – Cloud Girls, a Next-Gen Tech Think Tank, has joined forces with Telecom for Change, a nonprofit supported by telecom companies, to raise funds to support technology-based afterschool programming for young women in underprivileged and underserved areas.  Their joint efforts have resulted in donations of more than $10,000 to date.  This campaign supports both not-for-profit organizations' vision to support local grassroots charities and to inspire and empower the next generation of women as thought leaders in the evolving cloud and next-generation technology space.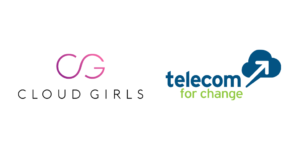 Cloud Girls is collaborating with the Afterschool Alliance STEM (Science, Technology, Engineering and Mathematics) team to write grant criteria and distribute the funds to qualified afterschool programs. Programs affiliated with the Afterschool Alliance will be invited to apply for the mini-grants sponsored by Cloud Girls by describing what they intend to do with the grant money to provide a dynamic learning environment for technology education and to creatively inspire young women's interest in technology. Cloud Girls members plan to actively participate in the local execution of the programs selected.
"One of Cloud Girls' core beliefs is giving back," said Wendy Holmquist, Cloud Girls co-chair of Philanthropy Work Group. "We are thrilled to partner with Telecom for Change on this important campaign, which enables our organizations to support efforts that will empower women and girls and develop future leaders, a cause that we're passionate about."
Telecom for Change Co-founder and President Angie Tocco, Co-founder of LanYap Networks, said,  "Since its inception in 2014, Telecom for Change, which is all volunteer-based, has supported fundraising for local charities.  Upon hearing about this campaign, we were able to quickly mobilize our board members to double the funds raised."
Cloud Girls and Telecom for Change invite like-minded individuals and companies to join the fundraising effort at https://donatenow.networkforgood.org/cloudgirls/donate.
About Cloud Girls
Founded in 2011, Cloud Girls is vendor-neutral, not-for-profit community of female technology advocates dedicated to educating themselves, their organizations and customers about the vast and dynamic cloud ecosystem. By exploring emerging market and technical trends, advocating best practices and building community, Cloud Girls is fostering female thought leaders in next-generation technology. For more information, visit www.cloudgirls.org
About Telecom for Change
Telecom for Change is a 501(c)(3) recognized organization comprised of telecom agents and carriers that dedicate their time and resources to provide aid to grassroots charities across the US. Since their inception in 2014, they've raised nearly $800,000 for local grassroots charities. Local charities often overlooked and underfunded, depend on Telecom for Change to provide game-changing donations that go directly to the cause rather than administrative costs. For more information, visit https://telecomforchange.org/
Contact
Cloud Girls
Tamara Prazak
Communications Chair
720-648-1980
social@cloudgirls.org