Cloud Girls philanthropic efforts support one of our core values of giving back.   We're excited to share that Stevenson Middle School in Honolulu, HI, a recipient of one of the Cloud Girls afterschool program grants, is paying it forward.  This organization in the Aloha state was awarded a grant for creating wearables and connected devices for the disabled.
The grant supported a new 3D printer  which will help the students bring their designs to life. Their first creation was  custom-fit prosthetic fingers for a classmate.  Now they are creating an ergonomic design for the tension strings so the fingers will emulate natural movement.  You can imagine the excitement this brings to the  young boy. He's finally going to have life like fingers!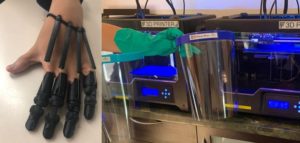 With the COVID-19 crisis impacting the island, frontline health workers were faced with the shortage of critical PPE equipment.   A hospital network reached out to Stevenson Middle School's afterschool group to help. They are now leading the movement within their public-school system to produce 1,000 face shields, providing life saving equipment to keep frontline healthcare workers safe.
Cloud Girls teamed together with Telecom for Change to raise more than $10,000 in philanthropic donations to support technology-based afterschool programming for young women in underprivileged and underserved areas.  Cloud Girls collaborated with the Afterschool Alliance STEM (Science, Technology, Engineering and Mathematics) team to write grant criteria and distribute the funds to qualified afterschool programs like Stevenson Middle School's organization.