Cloud Girls, Alliance of Channel Women Recognize Trailblazers and Rising Stars in Fifth Annual Awards
May 20, 2020 – Cloud Girls, a not-for-profit female Next-Gen Tech Think Tank, in collaboration with the Alliance of Channel Women, a not-for-profit organization dedicated to accelerating the growth of female channel leaders in technology, announced today the winners of the fifth annual Cloud Girls Rising Awards.
The Cloud Girl Rising awards were created to honor women in the service provider, cloud provider and channel community who have demonstrated leadership and innovation in the emerging cloud space as well as to inspire more women to step forward and follow their example.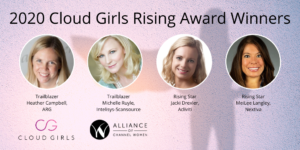 "The winners of the 2020 Cloud Girls Rising Awards are stand-out women in tech who are taking the lead in driving cloud solutions at their companies, in the channel community and within the tech industry," said Cloud Girls' Co-founder Jo Peterson, Vice President of Cloud Services for Clarify360. "Each one of these individuals has demonstrated ground-breaking leadership and innovation and will continue to be women to watch in the future.  We are thrilled to recognize their achievements and all that they're doing to advance cloud and next-gen technology growth."
The winners are:
Trailblazers are female technology industry veterans who are paving the way for their organizations, customers and industry in advancing cloud and next-generation technology solutions. They are recognized as role models and mentors to colleagues and others at work and the partner community.
A Rising Star is a female up-and-comer in the cloud community who has shown initiative in advancing cloud and next-generation technology solutions for her organization, customers and the industry.
 Women eligible for Cloud Girls awards are in sales, marketing or engineering roles at a channel partner organization — agent, VAR or MSP.  The winners were chosen by a judging panel of Cloud Girls and Alliance of Channel Women representatives from applications submitted online from Dec. 25, 2019, to January 31, 2020. The winners were awarded trophies and a one-year complimentary membership in Cloud Girls.
About Cloud Girls
Founded in 2011, Cloud Girls is vendor-neutral, not-for-profit community of female technology advocates dedicated to educating themselves, their organizations and customers about the vast and dynamic cloud ecosystem. By exploring emerging market and technical trends, advocating best practices and building community, Cloud Girls is fostering female thought leaders in next-generation technology. For more information, visit www.cloudgirls.org
About Alliance of Channel Women
Established in 2010, Alliance of Channel Women is a not-for-profit organization of women who are in leadership, ownership and revenue-generating roles in the indirect sales channel of the telecom and IT industry. ACW brings us together to empower and advance women's careers and leadership roles in the technology channel. To learn more and to become a member, please visit www.allianceofchannelwomen.org